Welcome
To the electronic home of the National Butterfly Association, and the sailboat it represents, the Butterfly. On this site you will find information on the Butterfly sailboat and the class Association, including historical records, recent class news, upcoming National Events, Results, Boats and Parts Wanted and For Sale in the Exchange, and details on the boat itself including builder information and parts prices.
---
If you are active in online communities, you know that Yahoo recently announced that it was ending its Groups and deleting all threads. The Butterfly has had a long-running group there, mainly assisting recreational sailors or those not connected to a fleet. Hosted by Past Commodore Pete Hoffswell, is been a solid source of Butterfly info for 20-ish years. But with the Yahoo announcement, it was move it or loose it - and Pete has set up a new group through groups.io, at https://groups.io/g/butterflyer or via the sign-up button on the left. If you know Butterflying, go there to pass on the knowledge. If you don't know Butterflying, go there to get your questions answered!
---
Gerry Hedlund obit, originally posted in August, 2018.
Gerry Hedlund Passes Away
We were notified by a sailing friend that Gerry Hedlund passed away Saturday, Aug 18, 2018. According to his brother Ron, Gerry had been battling cancer for a number of years, with it turning worse earlier this year. Gerry and Ron owned Hedlund Marine in Wilmette, IL, which was the owner of Barnett Boats and builder of the Butterfly for roughly 30 years, from when they bought it from the founder/designer, John Barnett, over a couple years around 1980, until the brothers sold the boat-building end of the busniess in 2009 to Windward Boatworks, and the Butterfly/Barnett parts business to Barnett Marine Sports in 2010.
---
Rules Things
We posted the following Rules articles a few years ago, but issues keep coming up, so we are leaving them below. More recently, some Class Rule questions have come in, which means that the items on the Class page have become required reading. The Class Rules have NOT changed since the edition on the Class Page - the Class by-laws should be required reading for anyone concerned about the Class, there has been no notice of any proposed class rule change posted as required by those by-laws.
---
More RULES
[answers to this quiz can be found on a new page, Class Rules Quiz]
The quiz in May (below) generated some comments and interest about the Class Rules (you can get to them by the menu bar above). So here is a short quiz on Butterfly Class Rules;
#1; What lines in the Class Rules apply specifically to the Builder or anyone doing repairs or restorations on a Butterfly sailboat?
and #1a, what do the the Class Rules say about MATERIALS used to build or repair boats?
#2; What do the Class Rules say about Masts?
#3; What part of the Class Rules is really not a Rule?
#4; How are the Class Rules enforced?
and the trick questions;
#5; How many different Masts have been supplied by the Builder either directly or through Dealers with new boats? Are they all class-legal?
#6; How many different versions of the internal contruction of the boats - fibers, resins, core materials, stringers (ribs), foam flotation and reinforcing - have been built by a) John Barnett, and b) Hedlund brothers? And are any of these not class-legal? (The current builder is entitled to keeping his own secrets, as long as his boats meet the answer to question #1....)
We'll be happy to post answers, comments and questions, its all about learning more about how Butterfly sailing really works when you want to go racing! Send yours to The Butterflyer
---
Quiz #1 results
Quiz #1 is closed, with no winner! Thirteen sailors submitted complete answers, but most missed #1 by simply saying the Racing Rules or something similar - which is very close but not quite correct, the Rules themselves are much more precise in listing what the Rules consist of.. Everyone got #2 right, there was enough of a hint in the question. But a number got #3 very wrong. Five people clicked on the 'Submit' button but never clicked on 'Send', so we really don't know what they were thinking. And 2 sailors asked good questions instead of submitting answers. And the answers to #4 were scattered, its clear that this is misunderstood by many. The answers are posted below, following each question, in blue.
---
Do you know the Rules??
They are the basis of our sport, the many little details that control what we sail, how we sail, how we govern the sport to make it as fair as possible. Unfortunately there are some who think their opinions are more important than the Rules. So to get ready for the sailing season, its time to test your knowledge, to see if you are really ready, and to help you better prepare if you are not.
Quiz #1. The first to submit the correct answers gets a new Butterfly hiking strap, free, from JimYoungSailing.com.
1. What are the Rules?
The easy answer is the Racing Rules of Sailing (RRS). But the RRS takes care to make sure you know that the RRS alone is not ALL of the Rules. So the correct answer is right at the front of the Rule Book, in the Definitions. The Definitions are important because they mean exactly what they say, there is no possible 'interpretation' or opinion. Look for the word RULE, and you will discover that the list is 7 items long!
The first item is the RRS itself, and that item takes care to list ALL of the RRS including parts that many sailors never read. Item b is a list of Regulations, that apply primarily to International classes and events, including the Olympics. Item c is the Prescriptions - the RRS itself comes from the Iternational Sailing Federation, and the Prescriptions are ways for each country - like the US - to make some small changes specific to that country. Item d is the Class Rules, items e and f are the Notice of Race and the Sailing Instructions. Yes, those two items are Rules, governing the event - the NOR is everything you need to know BEFORE the event, while the SIs are everything you need to know AT the event. Becuse they rank as RULES, its important that an event organizer gets all of the details correct and not just throw in some random thoughts not allowed or approved by either the RRS or the Class. The last item, 'other documents', would include anything specifically mentioned in the NOR or SIs, like the Entry Form. For some classes that allow open sails and perform a measurement at major events - like Optis - a Measurement Form is another example.
2. How are violations of the Rules heard and decided?
RRS 63.1 is crystal clear, "A boat or competitor shall not be penalized without a protest hearing, except as provided in rules 30.2, 30.3, 69, A5 and P2." A Protest Hearing is absolutely required - but do you know what those exceptions are? Read those Rules to learn what can happen without a hearing - but note that those are the ONLY things that can happen without a hearing.
3. Who can Protest?
RRS 60; the list includes three AND ONLY THREE groups who can Protest; 60.1, a boat; 60.2, a Race Committee; or 60.3, the Protest Committee. Can a spectator protest? A Parent or family member who is not one of those three groups? Anyone on a shore committee, such as a beachmaster or even the scorer? NO. Spectators, regatta staff and volunteers who are not Race Committee or Protest Committee members have the same right to cheer or boo as the spectators at a football game, send complaining emails or make stupid Twitter or Facebook comments, but they have no right to Protest. Something special to notice about that list, it does not include class officers or measures. They could be called as witnesses in a Protest Hearing regarding Class Rules or Measurement issues, but they may not file a protest themselves (unless they are a member of one of the three named groups) and may not make any judgements or take any actions that would affect a boat RACING outside of a Protest Hearing.
4. When do the Rules apply?
Hint; the Rules are named the RACING Rules of Sailing! And if you look in the Definitions, you will find that the word RACING is a Defined word, "A boat is racing from her preparatory signal until she finishes and clears the finishing line and marks or retires, or until the race committee signals a general recall, postponement or abandonment." So, if you are not at event, not RACING, then none of the Rules apply. The Preamble to Sections 2 and 4 of the RRS further clarifies the Right-of-way issues, making it clear that the "International Regulations for Preventing Collisions at Sea (IRPCAS) or government right-of-way rules" apply to boats that are not RACING".
Quiz #1 closes Wednesday May 20, at 6 pm Central Time.
---
720
For some unknown reason, maybe the full moon, over the last two weeks a couple of questions have shown up about Jim Young's use of sail #720 and his first boat. Here is Jim's answer:
I use 720 for a very simple reason; its my sail number, I own it. I even still have the receipt, from Barnett Boat Company Inc, Rt 3 Box 500A, Kenosha Wisconsin, for a yellow Butterfly, hull # 66170, and sail # 720. The serial number tells you that it is a 1966 boat. That hull was, unfortunaltely, destroyed in a car accident in the Colorado mountains on a rainy night, returning home from the Butterfly Nationals at Aspen in 1971. (And I still have the transom from that boat with the name on it, hanging in my garage.) Since I never sold the boat - or sail - I still own it, and have used 720 ever since.
For those wondering about my first boat, it was yellow, #290, from the summer of 1964. After the summer, that boat moved down to my brother Jack, and I sailed a blue #409 that fall, and got #569, with a bright red deck, to sail in 1965. I sold both of those to Oshkosh sailors and got #720 in early summer, 1966.
And just for fun; that 1971 accident that wrecked my hull? My trailer was hit from behind, in ugly stop-and-go conditions at night, in rain and wind, in a construction zone for the new Interstate 70, just outside of Georgetown, Colorado. The car that couldn't stop fast enough behind me, was driven by Jack Young. Yes, that Jack, my brother. And to make matters worse for the cop who wrote the accident report, the car Jack was driving was registered to me. Jack has largely been forgotten in scow country, but if you have been active in catamarans, you should recognize the name - its the same Jack Young who spent 30+ years with Nacra, as manager of Performance Catamarans in California when it was owned by Catalina Yachts, and then as President of Performance Sports International when Catalina sold the Nacra line to a group of sailor/investors.
---
Two different boats from the same photo. Why do they look different?
Do you know how a mast works with the sail? Do you know and understand the differences in the masts that have been sold as 'standard equipment' by the various builders with new boats?
Answers to some mast questions like this can be found on the Class Rules Quiz page
---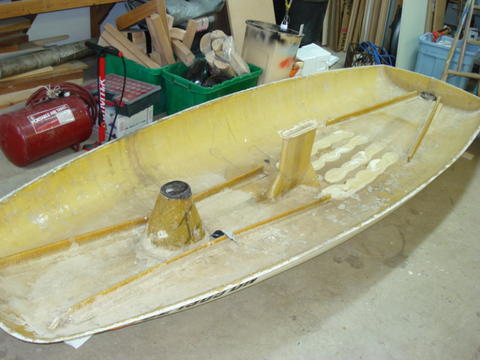 What do you think this is?
Do you know what the inside of a Butterfly looks like? And a better question, do you think all Butterflys look the same on the inside, as built new by the builders?

Answers to questions about the construction of the boats over the years can be found on the Class Rules Quiz page
---
Yesterday, and Tomorrow
We have started a long project, scanning in old printed editions of the class newsletter, The Butterflyer. We will make them available here as we get them done, and gradually add them to the History section of the web site, so everyone can see what has happened in the long life of this fun boat.
The first 6 years are now up! These are all pdf files, so you will need Adobe Reader - and they are all multipage files, so expect them to take a bit to upload;
---
Does anyone have news about some of the early pioneers of the class? News clippings from early events? We'd like to hear about it, send an email to the Butterflyer.
---
The Butterfly sailboat is one of the originators of the "one-design" sailing concept. In existence since 1962, the class is virtually unchanged, with only updates to hardware and fittings with new materials plus refinements and innovations in the internal structure to make a stronger, longer-lasting boat. Over 10,000 boats have been built since then, with the boat finding its way to cottages as a vacation boat, at home as a family recreation boat, in yacht club programs as a very successful junior training boat, and in racing, where the class has men, women, youth to masters, all competing together equally on a boat where the biggest single difference is the sailor.
---
This site Copyright © 1998-2019
Jim Young
all rights reserved